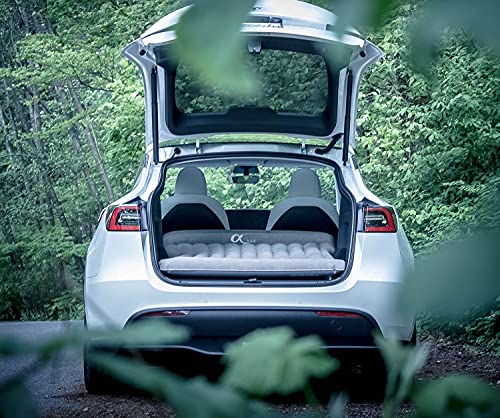 Best Camping Accessories for your Tesla in 2022
Updated on

March 11, 2022
As great as outdoors and exploring nature can be, there's something special about the simplicity of camping in a Tesla. See how these electric vehicles change the car camping game and solve many of the problems traditional car campers might experience.
Just load camping accessories into your Tesla, roll down the windows, and aim for the nearest city park. Don't forget to bring your tent, mattress, power station, car roof luggage, etc., —all vetted through days' worth of outings by The EV Shop—and you can combine a tastla of the wild with almost all the comforts of home.
We're keeping things simple and focusing on the essentials camping accessories for the Tesla Model here to get you started.
Best Camping Accessories Roundup for all Tesla Models — 2022
1. Inflatable Camping Tent
Want the very best affordable Inflatable camping tent for Tesla models S, 3, X, & Y that money can buy with room for two? This tesla tent easily outperforms the others with the lavish comforts of a complete tent construction that connect to the cargo area of your Tesla at a ridiculously lightweight. 
Living in it affords to sit up straight and be comfortable. It comes with a storm flap, which conveniently functions as a mesh that offers optimal ventilation and privacy. 
It holds its shape, even in windy or stormy conditions. With the built-in protection and bug proof, summer nights will have you safe from flying pests. At the same time, the polyester fabrics wick and shed water without any absorption, even after hours in a rainfall. 
Pros:
Amazing value
Excellent weather protection
Super easy setup and takedown
fantastic star gazing capabilities.
Cons:
Only one door
Living space is a bit tight
2. Camping Tent for Tesla Model Y
Are you a camper with a hobby? Then this is the tent for your Model Y. These 4 to 6 people models, a long-standing favorite in this review, is the perfect tailgate tent for music festivals, outdoor events, and anyone packing several camping accessories for their Tesla. Why? The tailgate tent is like a two-bike garage. The main tent packs plenty of space, creating a great living space for an entire family. The tent literally has you covered and all for a very reasonable price.
All this extra space does come at an expense. Setting up the tent in the moderate wind isn't as intuitive as it could be. The innovative locking mechanism connecting the strap to the rear of your Tesla requires some effort to lock. 
Because of the length and height of this tent, it requires a bit of time, about 15 minutes, unless you enjoy watching your tent sail away into the sunset. Once this camping tent is set up, it's massive, comfortable, and withstood some howling breezes and rainy nights in the wide with ease.
Pros:
Great value
Super light and the most compact shelter
Liveable space is spacious and comfortable
Excellent-wall construction for ventilation and bug protection
Cons:
Takes a bit of effort to pack away
3. Tesla Tailgate Floating Table
Whether you are out on the road or planning an epic tailgate road trip with friends or family, you may want to stop for a snack or even a full meal with a view. This tailgate table for Tesla Models S, 3, X, & Y is always a welcome addition guaranteed to keep your group cozy and your serving station clutter-free.
This stylish tailgate table is not only light and strong enough to support 200+ lbs but also built with top-of-the-line materials. The table is topped with food-safe, dishwasher-safe preparation mats, and a chopping board material throughout. Complete with clever channels to help drain any liquids away so they won't reach inside your car's interior. 
The Tail Table is designed to work with any car that uses a U- or I-shaped latch to secure its trunk. The innovation Mechanical and Patents Design skew well and indeed toward the convenient end of the spectrum, seamlessly locks to the metal U-latch (or I-latch) in your trunk or rear cargo area and sliding out to offer plenty of space for food and drink.
Pros:
Built tough
Space-saving
Include six wine glass holders built in.
Lightweight yet solid nylon and a food safe TPE rubberized board 
Cons:
4. Foldable Table/Desk for Eating or Working
For the occasional car worker, the foldable work desk is a super convenient table is the ultimate solution. Where the table gets more versatile is its ability to hold multiple things. On the surface, the table offers a large working area where you can place your phone's iPad, laptop and it is excellent to use to eat while on the road.
It is an inexpensive way to keep a tidy space and appearance when eating in the vehicle. The desk allows you room to put your lunch without putting food on your lap. That's great because it's easier than you think to spill something in the driver's seat. 
It's also designed to fit snugly on your window step and center console armrest box or passenger seat, converting the area into your own portable office setup. If you're always working on the move but still want to keep your vehicle organized. In that case, this is a worthwhile addition to your Tesla Model 3 or Y if you need a flat surface every now and then.
Pros:
It's straightforward to setup
Coffee cup holder
Durable
Offers a large working area and a smaller packed size
Cons:
5. Foldable & Portable Camping Mattress for Tesla Model Y
We are delighted to tell you that this CertiPUR Certified camping mattress provides comfort comparable to — and occasionally exceeding — our beds at home for regular car camping. Clearly, you can't ask for much more from a rollout foldable memory foam camping mattress. The top offers a soft, comfortable feel that doesn't get sticky or sweaty even without a sheet. 
It inflates to 2.6" think high-quality memory foam and provides a warm and comfortable night's sleep. We particularly appreciate it for napping outside on a warm afternoon. 
But we can't deny their limitations. This portable camping mattress is expensive for a two-person scale mattress, but the quality matches the price. If you camp on your Model Y a couple of times every year or even want an incredible spare bed for overnight guests, this one is well worth it, and your body will thank
Pros:
Easy to use
Offers excellent comfort for two persons. 
generously sized carrying sack
Warm enough for all-season use
Cons:
A bit large, packed size
Expensive
Want the very best portable mattress for Tesla camping that money can buy with room for two? CertiPUR Certified makes their super comfortable and foldable mattress in a twin-wide size, for the Tesla Model 3 
This portable mattress has the same impressive features and construction as the twin Tesla Model Y but is more tailored made. It's pretty as wide as three single mattresses together (75 ".6 by 41.3" by 2.6"), but it fits perfectly in the back of a Tesla Model 3 or in most more giant two-person tents. 
7. Foldable & Portable Camping Mattress for Tesla Model 3 & Y with a Built-in Pillow
Need something to camp on every now and then. Or do you want something for your unexpected guest to crash on for the weekend? Then the CertiPUR Certified Tesla one-person camping mattress is for you. Though it is available in a smaller size, meaning you might be able to fit two in your tent. 
It will not give you the comfort and warmth of the other two mattresses above, but it will provide some cushions on a meager budget. But like the other mattresses, we especially like it for resting outside on a warm afternoon. 
This one is also durable, lightweight, and includes a built-in pillow for comfort and convenience. This twin-sized mattress comes with a backpack-style storage bag and for a fraction of the cost of the foam mattresses.
Pros:
Great for unexpected guests
Good level of comfort
Easy to pack and fit the sub trunk or drunk
Large enough for one and a pet
Con:
Too big for some single person tents
8. Inflatable Air Mattress for all Teslas
Aside from being less expensive, this inflatable air mattress is pretty close to the CertiPUR Certified: It offers the most refreshing combination of performance and comfort for the Tesla S & X. And it also helps relieve pressure points while you sleep. We think it's an excellent inflatable air mattress, but not quite as good as the CertiPUR Certified. 
The pump included is quieter than most and comes with a storage cubby for the power cord, and we are confident it will hold up as well. 
It lets you quickly inflate and deflate the mattress and customize the firmness to your preferred comfort level. We also noticed that this mattress is made tough, crafted out of high-quality PVC, and supports up to 570ibs, making it highly unlikely you'll wake up sleeping on the ground. 
Pros:
Packs away easily
keeps sheets from slipping 
Provides a softer feel than a plastic-topped
Quicker to inflate and deflate.
Cons:
Not very warm, 
bouncy feel
9. Portable Refrigerator/Freezer
Going on a road trip with your van or Tesla? With this portable refrigerator and freezer, you'll appreciate the added space for perishable foodstuffs and beverages. It's best if you're splitting your time between your vehicle and a campsite.
While the opening may not look significant, it worked well with bottles standing up and other items in containers. Its capability and the convenient dimensions to hold all the things you might want to bring makes it ideal for storing snacks for family road trips. Probably has the same amount of room as a regular cooler when you consider that space all the ice takes up.
It operates on a 12V DC to plug directly into an outlet in your car, but it's also capable of using AC. But the best part about this freezer is that you didn't need to stop for ice or drain the cooler. It's also one of the quietest models we have seen and gets the coldest. There's so much to love about this powered cooler.
Pros:
Energy-saver
It's super quiet
Temperature control is simply perfect.
Cools quickly and even cool throughout
Cons:
A little on the heavy side
10. Portable Power Station
Year after year, this Power Station continues to be a high scorer. The portable power station is targeted at campers and for emergency preparedness. With an AC outlet and a whopping 240Wh battery, it holds enough power to charge anything from your smartphone, Bluetooth speaker, or MacBook Pro.  
Among the several ports on this device are two USBs, a 12V auto, and one 110V AC. It is suitable for indoor and outdoor usage and can simultaneously charge multiple devices. This indicates that the energy produced is clean energy, like a utility. Inverter electricity is safer for sensitive electrical devices.
To charge multiple devices, you can use plugs, hubs, your car, and when you're not around a power source— you can be charged up with a compatible solar panel. To turn it on/off for AC/DC, you'll need to press a separate button next to the screen, as you will need to do with any of the buttons next to each section of ports.
Pros:
Affordable
Easy-to-read screen
Portable and easy to use.
Easy to charge and very powerful and durable.
Cons:
Not water resistant
Expensive
11. Tesla Model 3 Privacy Curtains/Sunshades
Tesla's Model 3 boasts a massive glass panoramic windshield. Still, with the dramatic effect of this Privacy Curtains and Sunshades experience, you'll be able to keep the car cool even if it's parked under the sunlight.
The window shades come in a 6-pack set and are made from a thick, high-quality sunscreen fabric that blocks out 97% or more of damaging UV rays. Providing maximum protection for you and your passengers or babies. 
Installation is a breeze, and you can even roll down your window while the blinds are installed. You'll have complete privacy inside your vehicle with the sunshades closed over the windows. Excellent for sleeping and protecting your skin and eyes from UV radiation or preventing the sun from fading your interior when you're away.
Pros:
Take about five minutes to set up.
Easy to store
Perfect for long car rides when your kids need to sleep
Con:
12. Tesla Model Y Privacy Curtains/Sunshades
If you need privacy curtains similar to the Model 3, this Tesla Model Y sunshade is versatile that won't drain your bank account. In fact, these pieces are custom-made to fit the window perfectly.
Sunshades
Unlike other sunshades I've seen that glue or velcro onto one side of the window, this design just gently hugs over the whole door from the window. An added advantage is that you get 7 layers of curtains instead of one.
You no longer must worry about the sun beaming down on your pet when you go on long drives. Plus, you can crack the window and allow fresh air to come in a while, keeping everything inside the car and maintaining your privacy. Best of all, protection of your leather seats!
13. Retractable Glass Roof Sunshade for Tesla Model 3
For reliable and stylish retractable roof systems, check out this glass roof sunshade for Tesla Model 3. With innovation, from the traditional ancient sunshade our grandfather first built, we have arrived at this modern glass design that protects your surroundings and is practically helpful and comfortable to live in. Not to mention visually attractive and inviting.
They easily attach to the shade frame and can be moved to any position, and they are pretty sturdy. The interior inside feels more spacious because of the natural light.
It's just enough light to remind you that you have a sweet glass roof, but not enough light to feel its warmth or even bother your eyes. The added glass can cause the car's interior to be warmer during the summer months.
Pros:
Took only a couple of minutes to install
Easily removed if needed.
Does sag a bit in the middle
Con:
We couldn't find any fault
14. Microfiber shredded Memory Foam Camping Pillows
These shredded memory foam pillows for the Tesla Model S, 3, X & Y are one of the fluffiest shredded-foam pillows we've seen. It outshines the competition in terms of aesthetics and, more importantly, remains lightweight and comfortable. It is designed specifically for any type of outdoor activity you enjoy.
The softer feel is designed for stomach and side sleepers and can further support the aligned spine and neck when needed. The cotton fabric has been slightly brushed to feel soft to touch and operates silently. Unlike other shredded pillows, this one does not come with that all-too-familiar plastic bag texture.
Why it's incredibly lightweight, this memory foam can expand to a compact size of 13" 10" 4". It's just perfect to use the two pillows in your car. It is also packed down into its own stuff sack for easy transportation.
Pros:
Inexpensive with incredible value.
Lightweight and ultraportable.
Easy to adjust for varying sleeping styles
Slides around a lot.
Con:
15 Rooftop Cargo Box
The Thule force XT rooftop cargo box is notable for its simple mounting system and sleek matte black finish. Its sturdy construction makes it incredibly reliable but lost a point for not having a handle. 
However, it's a solid all-around rooftop cargo carrier for Tesla Model Y, offering comparable performance to more expensive models. It's easy to install, has plenty of space for many pairs of skis or a snowboard, and its components are impressively durable. While some more costly boxes have more excellent handles and aerodynamic designs, the Force provides functionality without the frills.
Unlike other models with cumbersome mounting fixtures, the Thule force XT cargo box has two integrated strap handles to secure gear. The clamps are easily tightened by twisting a knob, which clicks adequately tightened. It also includes an additional strap that hangs down on each side to make it easier to close the box.
Pros:
Takes less than five minutes to mount
Super spacious
Load straps are a nice touch
Quickly closed with the pull-down strap
Cons:
Bulky shape
Inconvenient handle